Portraits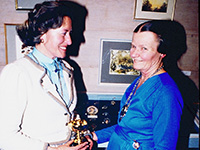 For many years Jennifer Buxton was one of the United Kingdom's foremost miniature portrait painters. This is a small selection of her work: many other examples are in private collections all over the world.
More portraits can be found within the
Ulverston Exhibition
Gallery in this website.
Miniatures
For much of her professional career, Jennifer specialized in painting miniature portraits of people on ivory and vellum. She was elected into the Royal Society of Miniature Painters, Sculptors and Engravers (RMS) in 1969, served as the society's Honorary Secretary for nine years, and over the course of the next 20 years won numerous awards and recognition for her work as one of the UK's foremost miniature painters. Although the majority of her miniatures were painted on commission and are in private collections, the examples here represent portraits of family and friends, and some that she painted to further her skill and experience.
Lockets
Even smaller than a miniature, the majority of these lockets are less than an inch (2.5cm) in diameter.